CHARLIE
Know-how and commitments
In favor of humans and the planet
assembly of our watches in France
It is important to us to act locally, which is why our watches are assembled by hand in France by professional and experienced watchmakers. Due to its history, France is the true cradle of European watchmaking. We therefore wish to maintain and develop this formidable heritage by combining both times of tradition and modernity.
CONTROLLED PRODUCTION MODEL
We have chosen to develop mainly directly, without intermediaries, so that everything is produced as accurately as possible, without overproduction with a balance between permanent collections and very limited editions.
And we are always investing more in the quality and durability of our products by maintaining accessible prices thanks to our distribution model without intermediaries.
ENVIRONMENTALLY FRIENDLY LEATHER
For our watch straps , we work with certified tanneries. This certification ensures sustainable and responsible production of leather: compliance with safety standards, reduction of substances harmful to health and the environment and reduction in water and energy consumption.

Furthermore, the leathers which come from breeding are primarily intended for food consumption. By working with our tanneries, we therefore intervene in the recycling and transformation of the skin by giving it a second "sustainable" life.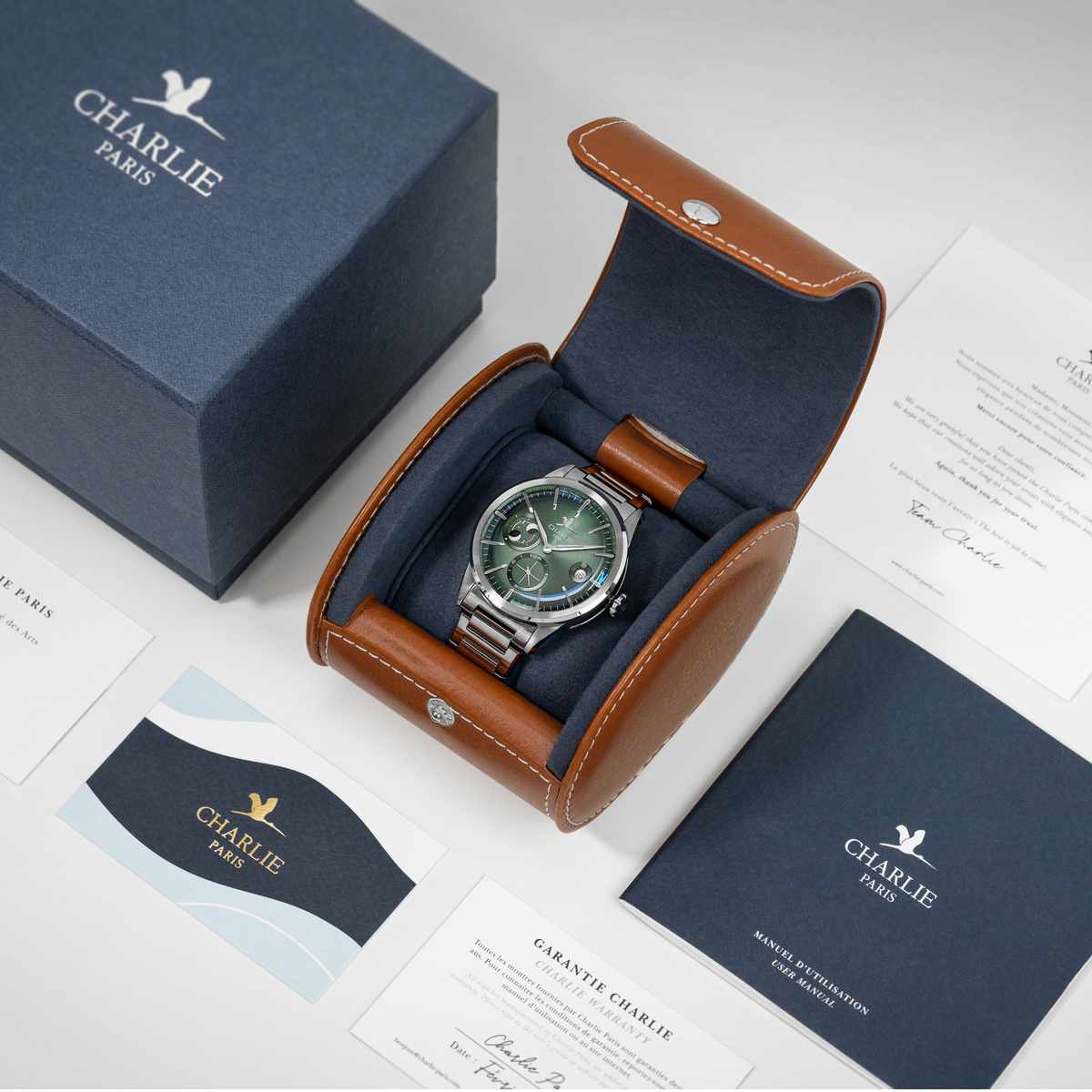 ECOFRIENDLY PACKAGING
Our boxes are manufactured by an ISO14001 certified partner, which guarantees efficient and environmental management of the company. They are made from recycled cardboard, ABS which is a recyclable polymer and with solvent-free glue. They are then transported by boat which is the most ecological means of transport.

The paper we use is FSC certified on our new packaging to ensure that wood production complies with procedures guaranteeing sustainable forest management.
RECYCLING YOUR OLD WATCHES
We participate in the circular economy, so that used watches do not contribute to accelerating pollution but on the contrary are valued to be used differently. With our partner EcoTempo, we offer you a simple process for recycling your used watches.

By recycling your used watches, in addition to making a gesture for the planet, you become an actor in supporting people in social difficulty thanks to collaboration with the Agir Durable program.
100% INDEPENDENT
We are a 100% independent company free to act according to our own will. Neither financial investors nor large groups are present in the capital. This allows us to take our time, build the company on healthy foundations and develop a long-term vision that goes beyond a purely financial logic of growth or profitability. At a time when everything must always move faster, we are very happy to have this luxury of being able to develop at our own pace. We are convinced that the best is yet to come...